New Kyoritsu 1110 Analog Multimeters
Numéro de l'article:1110
L'article se trouve a Londres .La livraison pour la France dura ca 7-9 jours ouvrables, 3 ans Garantie, manuel en l'anglais.
Nous parlons francais
Achat immédiat: €89.00
Livraison gratuite
Spécifications du fabricant:
New Kyoritsu 1110 Analog Multimeters
New Kyoritsu 1110 analog multimeter, it is professional tester and with multi-function.What's more,it is easy to operate.A brand-new, unused, unopened, undamaged item in its original packaging.
New kyoritsu 1110 analog multimeter, high sensitivity DC20k¦¸/V,Our products have been exported to more than 40 countries over the world. We believe that during the days of economic and cultural globalization, the key point for running business successfully both at home and abroad is to be creative, considerate, passionate, committed and industrious.
Features:
High sensitivity DC20kΩ/V
1m drop-proof heavy duty designed taut-band movement
Can measure line voltage up to AC 600V
(Voltage to ground MAX AC300V) (Protected by 600V ceramic fuse against accidental overload)
Continuity buzzer, battery check, LED check, temperature measurement function
Skeleton type robust and clear case with carrying handle furnished as standard accessory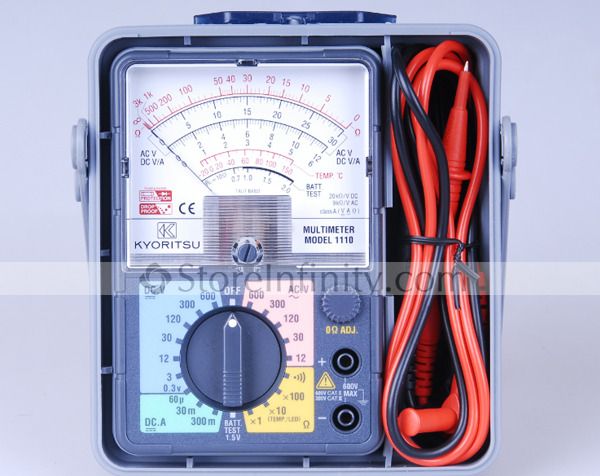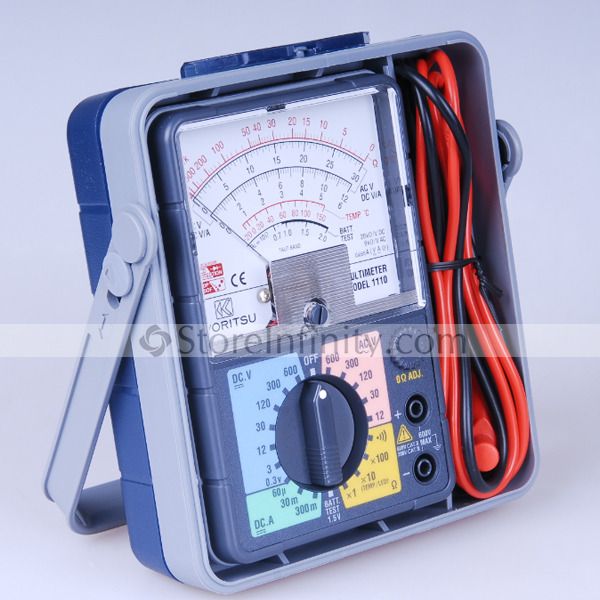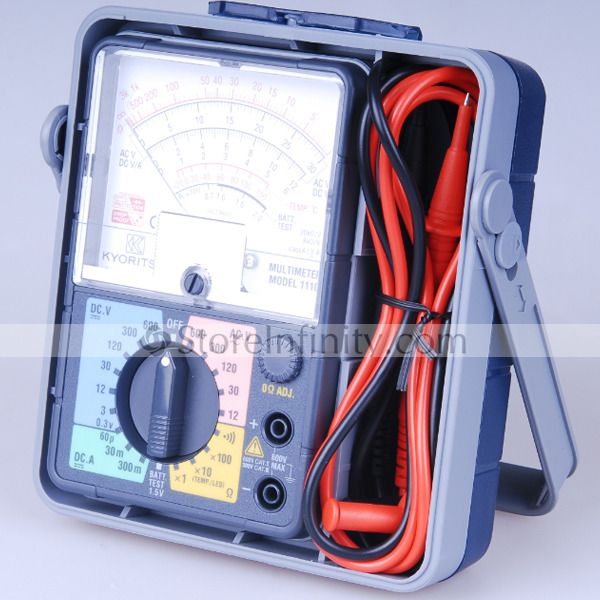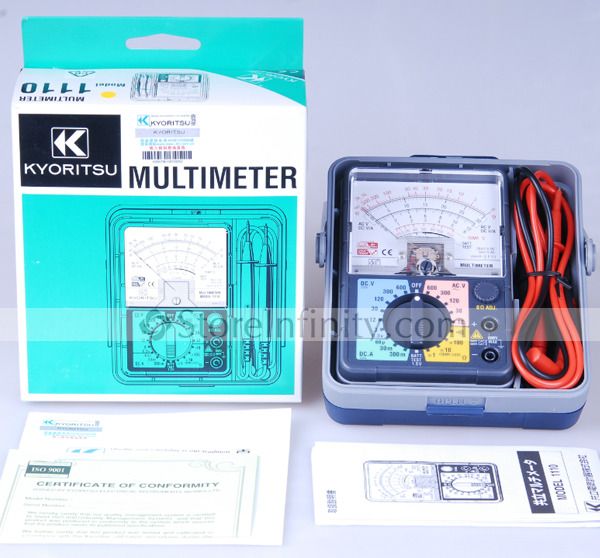 Specifications:

Brand: Kyoritsu
Gross Weight: 0lb
SKU: STINF-MT-0017



DC V

0.3V (16.7kΩ/V) ±3% of FS
3/12/30/120/300/600V (20kΩ/V)
±3% of FS

AC V

12V (9kΩ/V) ±4% of FS
30/120/300/600V (9kΩ/V)
±3% of FS

DC A

60µA/30/300mA
±3% of FS

Ω

3/30/300kΩ
±3% of scale length

Continuity buzzer

Buzzer sounds below 100Ω

LED

10mA approx. at 0 Ω
(at 3V of battery voltage)

Temperature

-20ºC~+150ºC
±3% of scale length (0ºC~+100ºC)
±4% of scale length (other ranges)
(with the use of Temperature probe 7060)

Battery Test

1.5V (0.7~2V)
±3% of FS (10Ω load)

Maximum
Circuit Voltage

600V AC/DC (between line/neutral)
300V AC/DC (against earth)

Applicable standards

| | | |
| --- | --- | --- |
| IEC 61010-1 | | CAT.III 300V Pollution Degree 2 |
| | | CAT.II 600V Pollution Degree 2 |

IEC 61010-2-031

Withstand Voltage

3700V AC for 1 minute

Power Source

R6P (AA) (1.5V) × 2

Dimensions

140(L) × 94(W) × 39(D) mm
Package Includes:

1 x New Kyoritsu 1110 Analogue Multimeters
1 x Original Package
Donnez votre avis
Dites-nous ce que vous pensez de cet article et partagez vos opinions avec d'autres personnes. S'il vous plaît vous assurer que votre avis ne porte que sur ce point. Tous les commentaires sont modérés et seront réexaminées dans un délai de deux jours ouvrables. commentaires inappropriés ne seront pas affichés.
Après questions-vente et questions: Contactez notre Service Clientèle. (Un représentant clientèle vous contactera pour vous).
S'il vous plaît Inscrivez-vous en premier si vous voulez plus tard modifier ou gérer les commentaires transféré par vous-même.