New Hantek 1008C 8 Channel PC Virtual automobile Oscilloscope
Numéro de l'article:1008C
L'article se trouve a Londres .La livraison pour la France dura ca 7-9 jours ouvrables, 3 ans Garantie, manuel en l'anglais.
Nous parlons francais
Achat immédiat: €89.00
Livraison gratuite
Spécifications du fabricant:
1.Introduction:
Highly efficient and cost-effective 8 channels oscilloscope; 2.4MSa/s real time sampling rate, 12bit vertical resolution; 8 channels programmable generator.
1) Oscilloscope


l 8 channels oscilloscope, 2.4MSa/s real time sampling rate
l 10mV/div to 5V/div input sensitivity, 8 gears adjustable
l 12 bits vertical resolution, spectrum analysis function
2) Programmable Generator

l 8 channels programmable generator
3) Others


l USB 2.0 interface plug and play, and no need extra power supply;
l More than 20 types of automatic testing function, a similar interface with benchtop oscilloscope, easy to use;
l Software support: Windows NT, Window 2000, Windows XP, VISTA, Windows 7;


2.Specification:
Model

Hantek 1008C

Oscilloscope Mode

Vertical

Analog Channel

8

Input Impedance

Resistance: 1MΩ

Input Sensitivity

10mV/div to 5V/div

Input Coupling

DC

Resolution

12 bits

Horizontal

Memory Depth

4K

Max. Input

400V (DC+AC Peak)

Real-Time Sampling Rate

2.4MSa/s

Time Base Range

1ns/div to 20000s/div(1-2-5 sequences)

Time Base Precision

±50ppm

Trigger

Source

CH1, CH2,CH3,CH4, CH5, CH6,CH7,CH8

Mode

Edge

X-Y Mode

X-Axis Input

CH1

Y-Axis Input

CH2

Cursors and Measurement

Voltage Measurement

Vpp, Vamp, Vmax, Vmin, Vtop, Vmid, Vbase,Vavg, Vrms, Vcrms, Preshoot, Overshoot

Time Measurement

Frequency, Period, Rise Time, Fall Time, Positive Width, Negative Width, Duty Cycle

Cursors Measurement

Horizontal ,Vertical, Track, Auto Measure Modes

Waveform Signal Process

+,- , x,÷, FFT, Invert

Voltage Range

 

10mV to 5V/div @ x 1 probe

100mV to 50V/div @ x 10 probe

10V to 5000V/div @ x 1000 probe

100V to 50000V/div @ x 10000 probe

200mV to 100V/div @ 20:1

Current Range

 

100mA to 50.0A/div @ CC65(20A)

1000mA to 500.0A/div @ CC65(65A)

1A to 100.0A/div @ CC650(60A)

10A to 1000.0A/div @ CC650(650A)

1A to 200.0A/div @CC1100(100A)

10A to 2000.0A/div @CC1100(1100A)

Cursor

 

Time/frequency difference, voltage difference

FFT

Rectangular, Hanning, Hamming, Blackman Window

Math

 

Addition, subtraction, multiplication, division

Programmable Generator

Channel

8

Output Level

 

LVTTL

Frequency Range

 

0-250kHz

Interface

 

USB 2.0

Power

 

No need extra power supply

Measurement

Size

185 x 150 x 27 (mm)

Weight

0.35kg
Software Support:
Operating System: Windows NT, Windows 2000, Windows XP, VISTA, Windows 7.
Standard Accessories: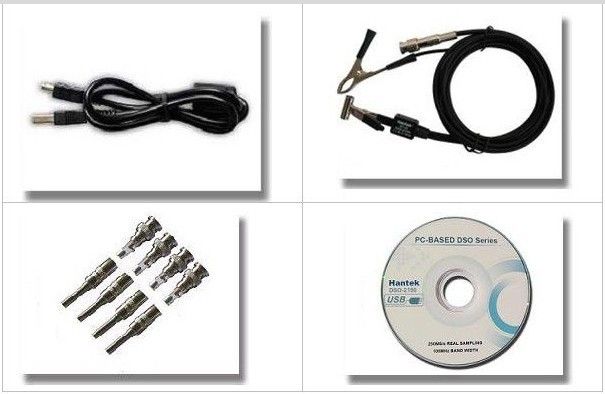 Optional Accessories: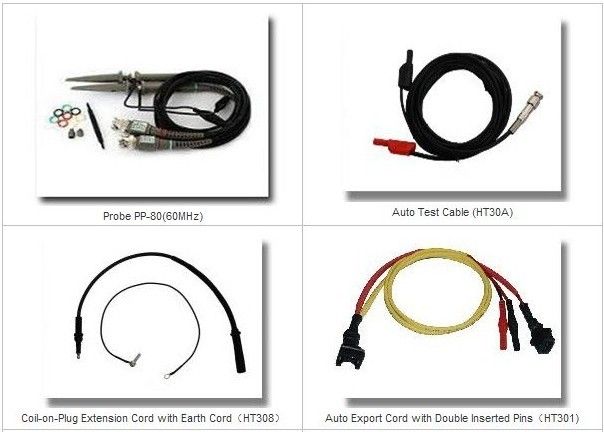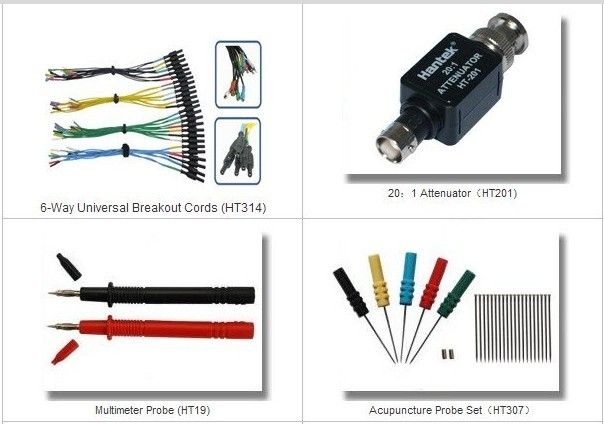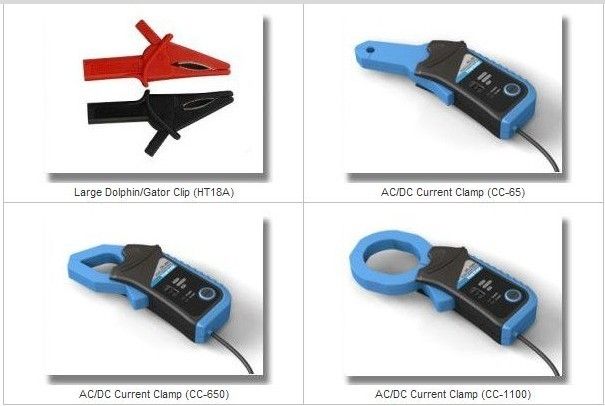 Poweful Function: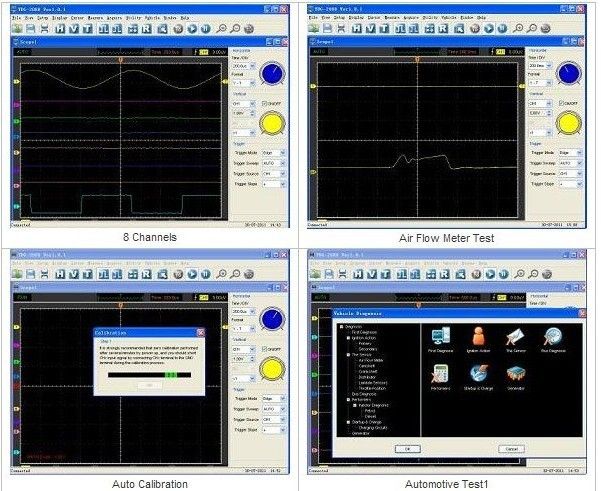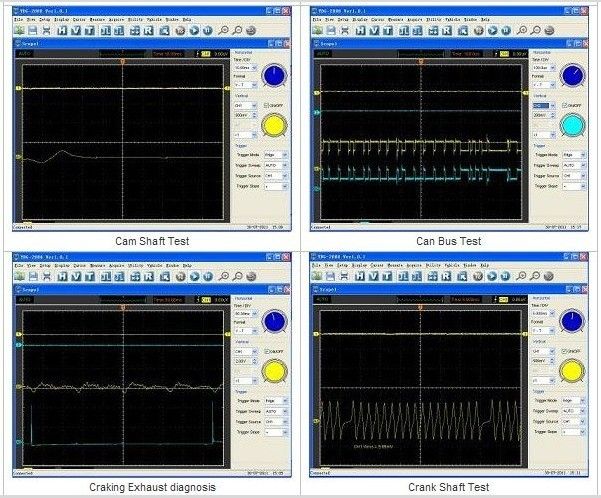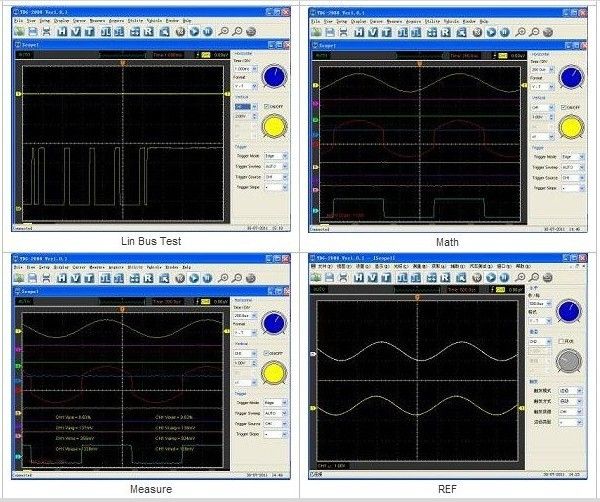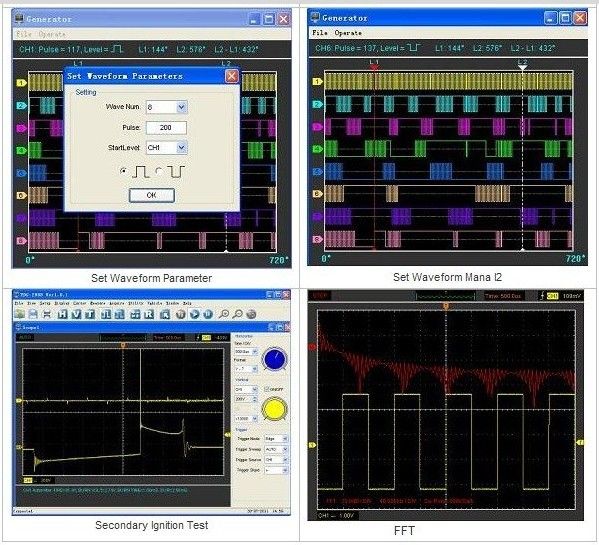 Donnez votre avis
Dites-nous ce que vous pensez de cet article et partagez vos opinions avec d'autres personnes. S'il vous plaît vous assurer que votre avis ne porte que sur ce point. Tous les commentaires sont modérés et seront réexaminées dans un délai de deux jours ouvrables. commentaires inappropriés ne seront pas affichés.
Après questions-vente et questions: Contactez notre Service Clientèle. (Un représentant clientèle vous contactera pour vous).
S'il vous plaît Inscrivez-vous en premier si vous voulez plus tard modifier ou gérer les commentaires transféré par vous-même.