Kyoritsu 2805 Analogue Clamp Meters Tester
Numéro de l'article:2805
L'article se trouve a Londres .La livraison pour la France dura ca 7-9 jours ouvrables, 3 ans Garantie, manuel en l'anglais.
Nous parlons francais
Achat immédiat: €109.00
Livraison gratuite
Spécifications du fabricant:
Kyoritsu 2805 Analogue Clamp Meters Tester
New Kyoritsu 2805 Analogue Clamp Meters Tester, outstanding perfermance with best quality and suitable price.
Features:
Range switch selects only one rotary scale at a time, making it easy to take readings correctly.
A long time seller with proven reputa-tion world wide for its easy-to-use functions.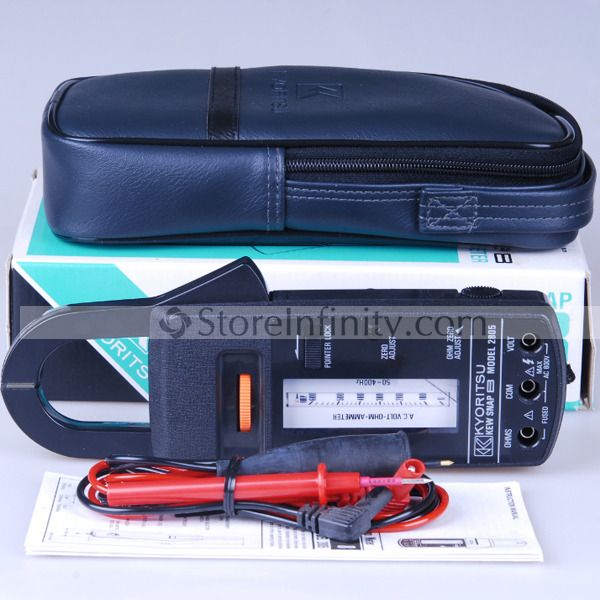 Specifications:

Brand: kyoritsu
Gross Weight: 0Kg



AC A

6/20/60/200/600A ±3% of FS

AC V

150/300/600V ±3% of FS

Ω

2kΩ (25Ω mid-scale)
±3% of scale length

Conductor Size

Ø35mm max.

Withstand Voltage

2200V AC for 1 minute

Dimensions

220(L) × 83(W) × 40(D)mm

Package Includes:

1 x Kyoritsu 2805 Clamp Meter
1 x Original Package(As the picture shows)
Donnez votre avis
Dites-nous ce que vous pensez de cet article et partagez vos opinions avec d'autres personnes. S'il vous plaît vous assurer que votre avis ne porte que sur ce point. Tous les commentaires sont modérés et seront réexaminées dans un délai de deux jours ouvrables. commentaires inappropriés ne seront pas affichés.
Après questions-vente et questions: Contactez notre Service Clientèle. (Un représentant clientèle vous contactera pour vous).
S'il vous plaît Inscrivez-vous en premier si vous voulez plus tard modifier ou gérer les commentaires transféré par vous-même.