Kyoritsu 1710 Voltage Tester Phase Rotation Test Voltmeter AC/DC 690V
Numéro de l'article:1710
L'article se trouve a Londres .La livraison pour la France dura ca 7-9 jours ouvrables, 3 ans Garantie, manuel en l'anglais.
Nous parlons francais
Achat immédiat: €159.00
Livraison gratuite
Spécifications du fabricant:
Kyoritsu 1710 Voltage Tester Phase Rotation Test Voltmeter AC/DC 690V
Since it's founding in 1940, Kyoritsu has made customer satisfaction and providing high quality products and services our top priorities. Our emphasis on customer support has helped us to build strong and lasting customer and distributor relationships that continue today.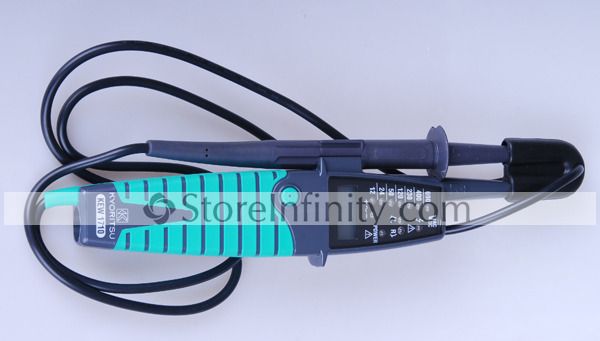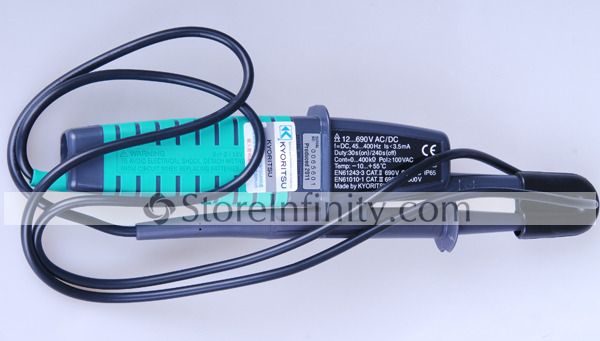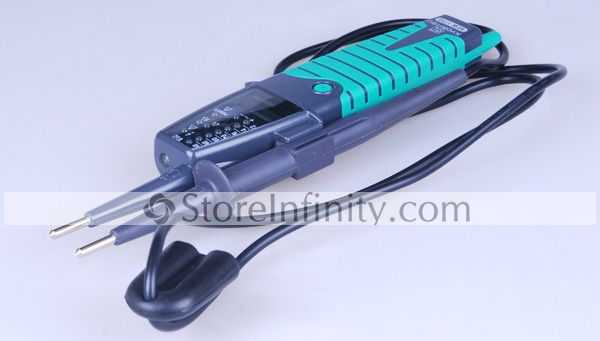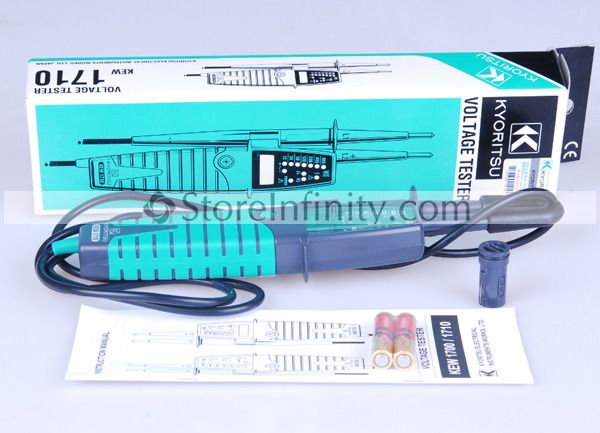 Features:
Designed to meet international safety standards
IEC 61243-3/IEC 61010-1
Measurement Category (CAT.) IV 600V
Self-Diagnostic test
AC and DC voltage tests up to 690V with LEDs and LCD
Polarity indication
Single-pole phase test
Phase rotation test
Double molding gives comfortable grip
Continuity test
Auto-power ON/OFF
Pen light for illuminating measurement points
Variable distance in socket, 16.7mm or 19.0mm
Variable probe Tips, 1.6mm or 4mmφ
Probe cover protects user and probe Tips
IP65 (IEC 60529)
Specifications:

Brand: Kyoritsu
Gross Weight: 0.2Kg
SKU: STINF-PI-0002



Voltage Test

Voltage Range

12~690V AC/DC

LED

Nominal Voltage

12/24/50/120/230/400/690V
AC (45~400Hz), DC (±)

Tolerance
(Threshold Voltage)

Light on at more than:

7±3V (12V LED)

18±3V (24V LED)

37.5±4V (50V LED)

75%±5% of nominal voltage

(120/230/400/690V LED)

Response Time

<0.5s at 100% of each nominal voltage

LCD

Range/Resolution
(Auto-range)

300V (7.0~299.9V)/0.1V
690V (270~759)/1V

Accuracy (23±5ºC)

±1.5V (7~100V)
±1%±5dgt (100~690V)
AC (45~400Hz), DC(±)

Overrange Indication

"OL"

Response Time

<2s at 90% of each voltage

Peak Current

ls<3.5mA (at 690V)

Measurement Duty

30s ON (operation time)
240s OFF (recovery time)

Internal Battery Consumption

Approx. 33mA (battery 3V, measuring 690V AC)

Battery Life

Approx. 2500 operations (30s ON/240s OFF duty)

Single-Pole Phase Test

Voltage Range

100~690V AC (45~100Hz)
180~690V AC (100~400Hz)

Phase Rotation Test

System

Three-phase 4-wire system
200~690V phase-to-phase
(100~400V earth-to-phase)
AC 50/60Hz

Phase Range

120±5 degree

Continuity Test

Detection Range

0~400kΩ+50%

Test Current

Approx. 1.5μA (battery 3V, 0Ω)

Internal Battery Consumption

Approx. 30mA (battery 3V, 0Ω)

General

Operating temperature and humidity ranges

-10~55ºC, max 85% RH
(no condensation)

Storage temperature and humidity ranges

-20~60ºC, max 85% RH
(no condensation)

Applicable Standard

IEC 61010-1 CAT.III / IV 600V
IEC 61243-3 CAT.II 690V
Pollution degree 2


Package Includes:


1 x Kyoritsu 1710 Pen
1 x Original Package

Donnez votre avis
Dites-nous ce que vous pensez de cet article et partagez vos opinions avec d'autres personnes. S'il vous plaît vous assurer que votre avis ne porte que sur ce point. Tous les commentaires sont modérés et seront réexaminées dans un délai de deux jours ouvrables. commentaires inappropriés ne seront pas affichés.
Après questions-vente et questions: Contactez notre Service Clientèle. (Un représentant clientèle vous contactera pour vous).
S'il vous plaît Inscrivez-vous en premier si vous voulez plus tard modifier ou gérer les commentaires transféré par vous-même.