KYORITSU Insulation Continuity Tester 3021
Numéro de l'article:3021
L'article se trouve a Londres .La livraison pour la France dura ca 7-9 jours ouvrables, 3 ans Garantie, manuel en l'anglais.
Nous parlons francais
Achat immédiat: €309.00
Livraison gratuite
Spécifications du fabricant:
KYORITSU Insulation Continuity Tester 3021
Since it's founding in 1940, Kyoritsu has made customer satisfaction and providing high quality products and services our top priorities. Our emphasis on customer support has helped us to build strong and lasting customer and distributor relationships that continue today.
Storeinfinity recommends reputable Digital Insulation/ Continuity Tester brands such as Kyoritsu meters for their outstanding performance and system features make it a perfect solution for your reliable testing requirement, fast and safe delivery, best quality with irresistible Price.
Features:
3 functions in one unit, insulation test with 4 voltage ranges, continuity test, AC voltage measurement
200mA measuring current on continuity testing
Comparator function with PASS / FAIL and buzzer
0Ω adjustment at continuity measuring range
Memory function up to 99 data
Backlight LCD provides easy reading in dark locations
Safety lock system prevents an erroneous operation on 500 and 1000 Volt ranges
Safety standard IEC 61010-01 CAT.III 600V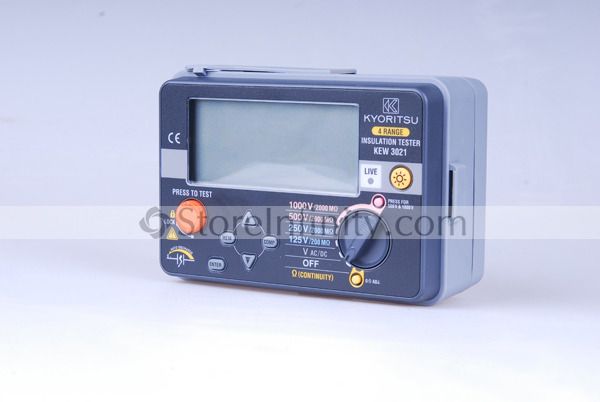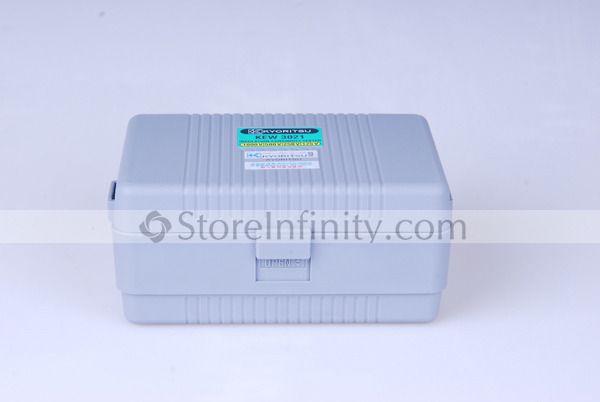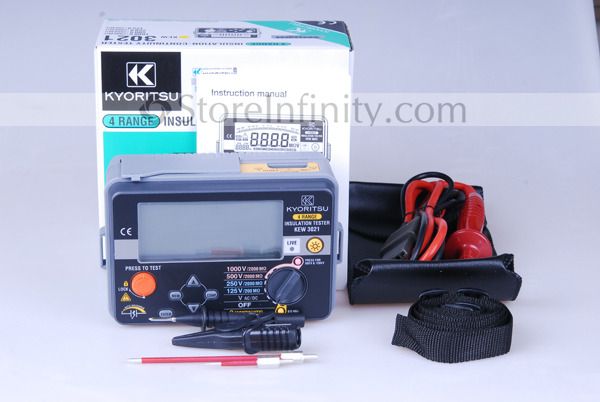 Specifications:

Brand: Kyoritsu
Gross Weight: 0Kg
SKU: STINF-IRT-0006




Insulation resistance

Test voltage

125V

250V

500V

1000V

Measuring range
(Auto range)

4.000/40.00/
200.0MΩ

4.000/40.00/400.0/2000MΩ

First Effective Measuring range

0.1~20MΩ

0.1~40MΩ

0.1~200MΩ

0.1~1000MΩ

Mid-scale value

5MΩ

50MΩ

Accuracy

±2%rdg±6dgt

Second effective measuring range lower

0~0.099MΩ

Second effective measuring range upper

20.01~200.0MΩ

40.01~2000MΩ

200.1~2000MΩ

1001~2000MΩ

Accuracy

±5%rdg±6dgt

Rated current

DC 1~1.2mA

Output short circuit current

1.5mA max

Ω/Continuity

Auto range

40.00/400.0Ω

Accuracy

±2%rdg±8dgt

Output Voltage on open circuit

5V±20%

Output short circuit current

DC 220±20mA

Fuse

Quick acting ceramic fuse 0.5A/600V (Ø6.35×32mm)

AC Voltage

Range

AC 20~600V (50/60Hz)
DC -20~-600V/+20~+600V

Accuracy

±3%rdg±6dgt

General

Applicable standards

IEC 61010-1 CAT.III 600V, IEC 61557-1,2,4, IEC 61326-1 (EMC), IEC 60529 (IP40)

Dimensions / Weight

105(L) × 158(W) × 70(D)mm / 600g approx.

Power source

R6P×6 or LR6×6

Package Includes:

1 x Digital Insulation / Continuity Tester
1 x Original Package
Donnez votre avis
Dites-nous ce que vous pensez de cet article et partagez vos opinions avec d'autres personnes. S'il vous plaît vous assurer que votre avis ne porte que sur ce point. Tous les commentaires sont modérés et seront réexaminées dans un délai de deux jours ouvrables. commentaires inappropriés ne seront pas affichés.
Après questions-vente et questions: Contactez notre Service Clientèle. (Un représentant clientèle vous contactera pour vous).
S'il vous plaît Inscrivez-vous en premier si vous voulez plus tard modifier ou gérer les commentaires transféré par vous-même.