DT-615 Humidity Temperature Meter Environment Meter
Numéro de l'article:DT-615
L'article se trouve a Londres .La livraison pour la France dura ca 7-9 jours ouvrables, 3 ans Garantie, manuel en l'anglais.
Nous parlons francais
Achat immédiat: €99.00
Livraison gratuite
Spécifications du fabricant:
This device measures relative humidity, air temperature (with probe), plus K type thermocouple wide temperature measurements. The large, easy-to-read backlit LCD includes primary and secondary displays plus numerous status indicators. Careful use of this meter will provide years of reliable service.

Features:

1Semiconductor sensor for temperature measurements of 0C to 40C and 32F~104F plus type-K thermocouple wide temperature measurements of 20.0C to 1000C
Humidity measurement from 0.1%RH to 100.0%RH with 0.1%RH resolution and fast time response. (The measuring range is from 0% to 100%, but above 98% and below 5% the deviation is not specified.)
Fast response for Humidity measurement
Data Hold and MAX Hold function
Large dual digital LCD display with function indication
Specifications


Function

Range and Resolution

Accuracy

Humidity

5.0 to 98.0% RH

3.5% RH

Temperature
(K-type) (probe accuracy not included)

-20.0 to 199.9C

(3.0% reading + 4C)

-20 to 1000oC

-4.0 to 199.9F

(3.0% reading + 7F)

-4 to 1832F










Display: Dual LCD with Backlight and status Indicators
Sensor


Type: Humidity: Precision capacitance sensor
Temperature: Thermistor (probe) and type K thermocouple
Response Time: Probe Temperature and Relative Humidity: 3 minutes
Accuracy note: Accuracy is specified for the following ambient temperature range:
64 to 82°F (18 to 28C)
Sampling Rate : 2.5 samples per second
Operating Conditions: 32 to 122F (0 to 50C); < 80% RH non-condensing
Storage Conditions: 14 to 140F (-10 to 60C; <80% RH non-condensing
Power Supply: 9V Battery with auto power off (after 10 minutes)
Dimensions: 5.9 x 2.8 x 1.4 (150 x 72 x 35mm)
Weight: 210g

Accessories:
9V battery, Holster, Temperature probe, Gift box with carrying case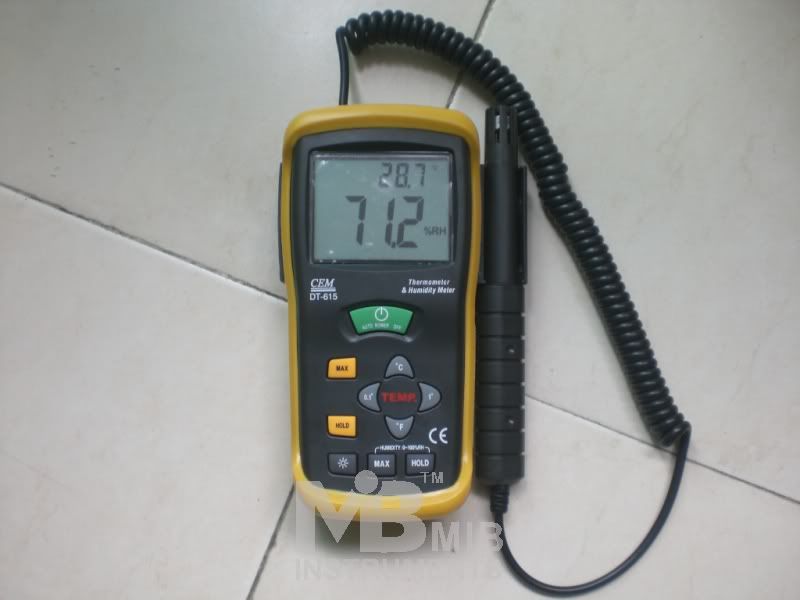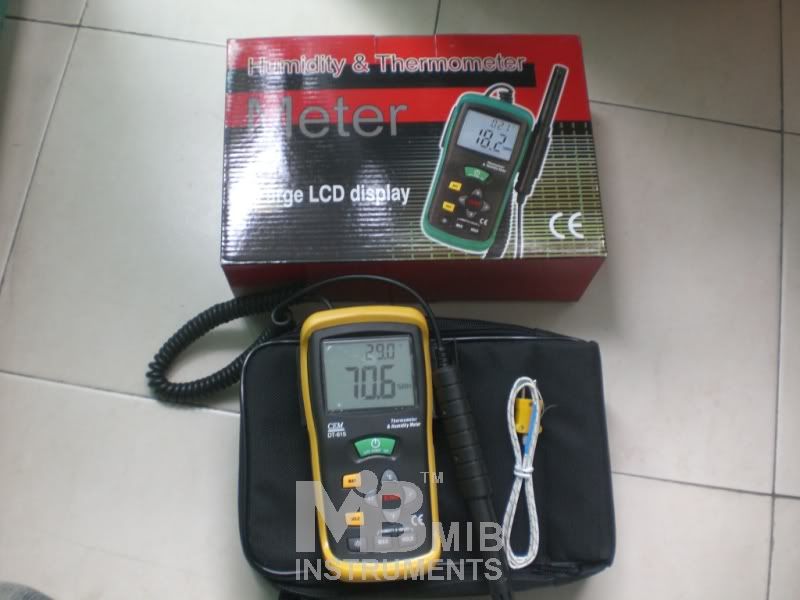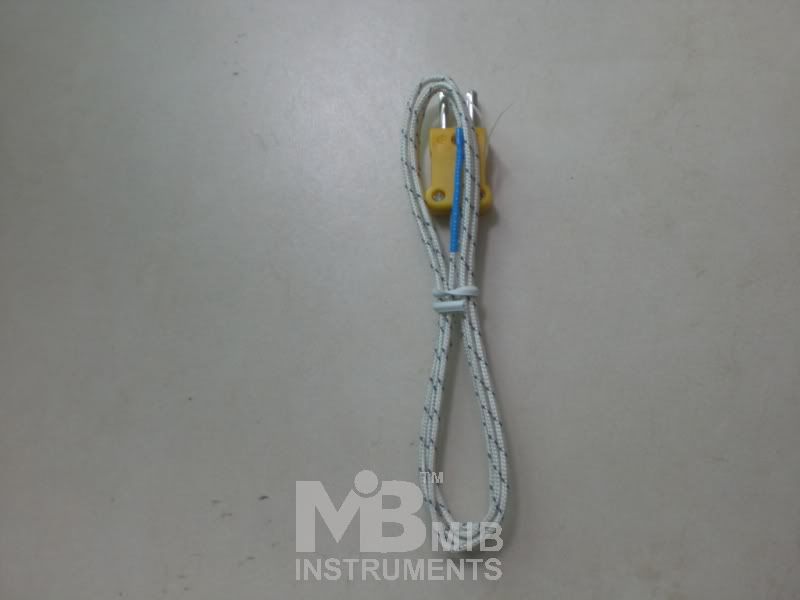 Donnez votre avis
Dites-nous ce que vous pensez de cet article et partagez vos opinions avec d'autres personnes. S'il vous plaît vous assurer que votre avis ne porte que sur ce point. Tous les commentaires sont modérés et seront réexaminées dans un délai de deux jours ouvrables. commentaires inappropriés ne seront pas affichés.
Après questions-vente et questions: Contactez notre Service Clientèle. (Un représentant clientèle vous contactera pour vous).
S'il vous plaît Inscrivez-vous en premier si vous voulez plus tard modifier ou gérer les commentaires transféré par vous-même.