ATTEN AT5006 Spectrum Analyzer 0.15 to 500 MHz Tracking
Numéro de l'article:AT5006
L'article se trouve a Londres .La livraison pour la France dura ca 7-9 jours ouvrables, 3 ans Garantie, manuel en l'anglais.
Nous parlons francais
Achat immédiat: €529.00
Livraison gratuite
Spécifications du fabricant:
ATTEN AT5006 Spectrum Analyzer 0.15 to 500 MHz Tracking
New ATTEN AT5006 Spectrum Analyzer 0.15 to 500 MHz Tracking, 100%new, factory packed and never been used.
AT5005 /AT5006 is the perfect instrument for analyzing any kind of signal within the frequency range of 150KHz to 500MHz, and is best suited for meeting the RF measurement needs of education and industry.
Features:
•Frequency Range: 150KHz to 500MHz
•4½ Digit Display: Centre & Marker Frequency,
•0.1MHz Resolution
•Amplitude Range: -100dBm to +13dBm
•Filters: 20KHz, 250KHz & Video Filter.
•Output Power: +1dBm to -50dBm (50 ohms)
•Built-in Tracking Generator: 0.15MHz to 500MHz (Only for Model AT5006)
Closer Look: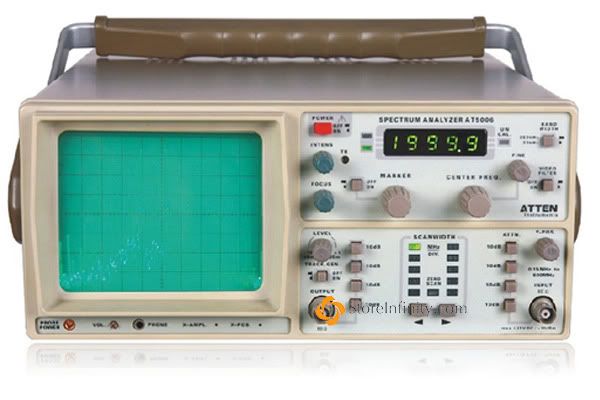 Specifications:
Brand: Atten
Gross Weight: 0lb
SKU: STINF-SN-0006
FREQUENCY
| | |
| --- | --- |
| Frequency range: | 150 KHz to 500MHz (-3dB). |
| Center Frequency | ±100KHz |
| Resolution of frequency display: | Resolution 100KHz, ( 4 ½ digit ) |
| Marker Accuracy | 0.1% Span +100KHz |
| Frequency Stability (Drift) | <150 KHz / hr |
| Frequency Span | Zero span 0Hz/div, and 100 KHz/div to 100MHz/div in 1-2-5 sequence. |
| Accuracy | ±10% |
| RBW (-3dB) | Resolution 20 KHz & 250KHz |
| Video Bandwidth, VBW | 400 KHz |
| Sweep Time (Fixed) | 23ms |
AMPLITUDE
Amplitude Range

-100dBm to +13dBm

Screen Display Range

80dB (10dB/div)., 8 div

Reference Level

-27dBm to +13dBm (in 10dB steps), -27,-17,-7,+3 and +13dBm

Accuracy (Ref. Level)

±2dB

Average Noise Level

-103dBm (25 0KHz RBW)

Frequency Response(Relative to 250MHz,

ATTN 10dB)

±2dB

Inter-modulation (3rd order) (Spurious Response)

<-75dBc (2 signals, -27dBm each, Freq. Distance >3MHz)

Harmonic Distortion (2nd, 3rd):

<-75dB

Absolute Amplitude Accuracy

±2.5dB
INPUT
Input Impedance
50 ohms
Input Connector
BNC
Input Attenuator
0 to 40 dB (4 x 10 dB steps)
Input Attenuator Accuracy
±2dB / 10dB step
Max. Input Level
: +10dBm, (0dB attenuation), DC : ±25V
Package Includes:
•1 x AT5006 Spectrum Analyzer
•Original Package
Donnez votre avis
Dites-nous ce que vous pensez de cet article et partagez vos opinions avec d'autres personnes. S'il vous plaît vous assurer que votre avis ne porte que sur ce point. Tous les commentaires sont modérés et seront réexaminées dans un délai de deux jours ouvrables. commentaires inappropriés ne seront pas affichés.
Après questions-vente et questions: Contactez notre Service Clientèle. (Un représentant clientèle vous contactera pour vous).
S'il vous plaît Inscrivez-vous en premier si vous voulez plus tard modifier ou gérer les commentaires transféré par vous-même.